Tom Barron Wins "Breakthrough of the Year" Award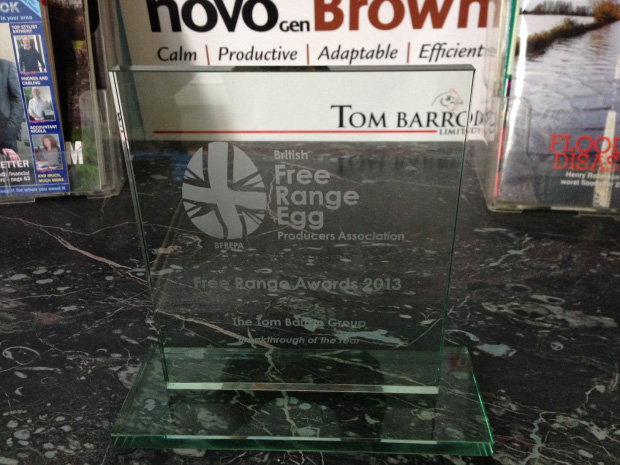 Tom Barron Wins "Breakthrough of the Year" Award
Neil Leeming recently received the first major accolade for his new layer bird "The Novogen Brown"
The award was presented by the British Free Range Egg Producers Association for the successful  introduction of a new layer breed to the UK market
BFREPA said that it had decided to give the award to Tom Barron for remaining independent from a breed company – no other UK hatchery can boast that achievement.  It also recognised that Tom Barron through its new breed, was maintaining healthy competition in the day old chick supply market.
Neil Leeming stated that he was very pleased with the Novogen Brown breed, it had far exceeded all his expectations.
"The genetics and testing of the bird is considered to be superior to anything currently on offer in the UK at the present time.
All the results we now have are better than expected, the end of lay shell quality is outstanding, along with good egg numbers, egg mass and shell colour.  I cannot believe a bird can produce all these characteristics and be so calm and feed efficient.  However, the bird is not an untested newcomer to the market, the parent company Novogen have been developing the product for over 10 years."
Neil went on to explain that the Novogen Brown birds had made a massive impact on the world layer market and in particular in Europe where it has achieved  15% market share in under 2 years.